Last night I went out and didn't spend more than 5 euros! Thanks to the beers they sell on the streets, plus all the offers for "chupitos gratis". This one guy offered chupitos gratis and brought us to this really cool lounge called
Le Moulin ROSE!!!!!
We had a lot of fun- they had some nice dance music. By nice dance music, I really mean cheesy pop classics. What can I say? They're fun songs!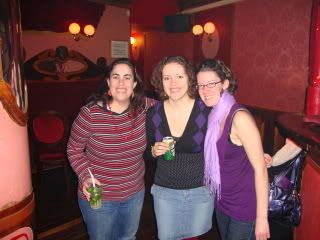 We discovered last night that it is quite difficult to navigate malasaña and chueca... we spent probably 2 hours wondering around, asking people how to get to chueca, and by the time we got to chueca, the bars were closed! At only 3:40am!
I've decided that February is going to be my stingy month, especially since I'm now paying money to take a class, and also I want to save up to travel a bit this summer.